Italy
The alleys of Palermo are true ornamental masterpieces. The house windows overflow with flowers, decorative rocks, flourishes, statues of cherubs. The whole picture is very busy, but also very rich.
This is the effect I wanted to reproduce by incorporating stencils of Italian lace into the works of this collection . The patterns created this way enhance the texture and bring out the floral aspect. Combined with many details drawn in India ink, the composition is recalls the Rococo style.
The Italy series already includes several unique works. Most of the paintings in the series are enormous. One of them is on display at the Metro Toronto Convention Center. It measures 6 metres by 3 metres.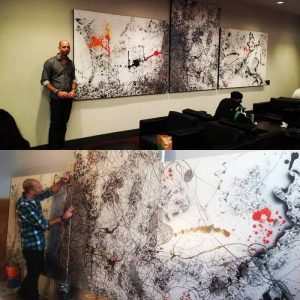 I will gradually add other works to this collection, which I hope will be infinite.